About
New Zealand holds an international reputation as a provider of quality education and also for its warm and welcoming environment.
New Zealand is located in the Southwest Pacific Ocean and the capital is Welligton though the most popular city is Auckland.
New Zealand is fast becoming the first choice for a large number of Indian students. Indian students account for 13% of total international student population in New Zealand. To know more about this popular study destination contact our counselors.
New Zealand offer quality education and is home to some of the world renowned universities like Auckland University of Technology, University of Otago, Massey University, University of Canterbury to name a few
Educational institutions in New Zealand offer pioneering courses in the field of hotel management, tourism, Business studies, IT, Engineering, Visual Communication & Fashion. To know the best course for you, visit us for a free consulting session.
World recognized degree at affordable cost. Courses in New Zealand start at as low as 5 lacs and the living expenses also range between 3.5-4 lac. To know more call us at +91 9236194711
Students also have a stay back option by applying for Graduate Job Search Work visa which allows students to stay for 12 months.
NZ colleges & universities accept 3 years bachelor's degree making it a favored destination for Indian students. So if you have a 3 years degree & cannot target US/Canada, visit us to know about exciting options in New Zealand.
English is widely spoken in New Zealand so Indian students don't face problems in getting jobs or settling in the country
IELTS is a mandatory requirement for gaining admission. Join our tutorials to achieve TOP scores in IELTS.
Why New Zealand?
The best thing about studying in New Zealand is receiving world class education and globally recognized degrees at almost 50% less than that of USA and UK. The course fee ranges between NZ$10000 to 30000 and the living expenses are also 3-4 lac.
Code of Practice for International Students:
A code of practice ensures international student's welfare and also that the universities & colleges act fairly in recruiting students. Code gives prospective students that they can trust the institution in which they choose to enroll.
Safe & welcoming country:
The people in New Zealand are friendly and welcoming of international students. Moreover, English is widely spoken so students do not face any difficulties in communication.
Government controlled education system:
The educational institutes in New Zealand are controlled by Ministry of Education and other appointed government bodies like New Zealand Qualifications Authority (NZQA) which approves all courses run by polytechnic & private institutes. The New Zealand Vice-Chancellor's Committee (NZVCC)is responsible for approving all diplomas, undergraduate and graduate programs offered by New Zealand universities.
Opportunity for part time work:
International students can work 20 hours per week during studies and full time during vacations. This helps students earn a part of their expenses.
Stay Back options in New Zealand:
The student can apply for 12 months Graduate Job Search Wok Visa and once the student has offer of employment he can further apply for a visa upto two or three years under the Study to Work category. Permanent Residency is also available to skilled workers and students. In order to apply for a permanent residency under the skill migration category, an Expression of interest (EOI) has to be submitted to immigration where the ability of the potential migrant is judged on the basis of a point system.
Education System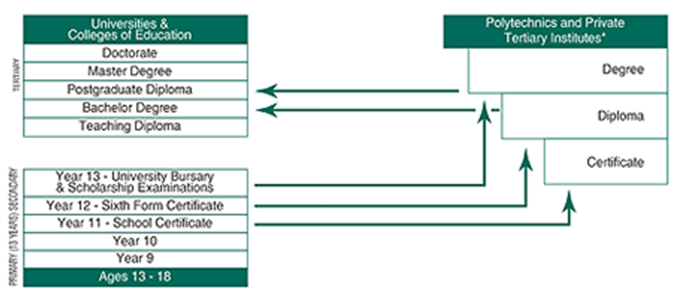 Education in New Zealand follows the three-tier model which includes primary schools, followed by secondary schools (high schools) and tertiary education at universities and/or polytechnics.
There are 8 state-funded universities offering a broad range of courses in Arts, Commerce and Science. Each has developed its own specialist subjects such as Medicine, Engineering, Veterinary Science, Computer Studies, Agriculture and Environmental Studies, Sports-Science, Biotechnology, Architecture etc. The universities offer Bachelor's, Master's and Doctoral degrees and also a range of under graduate and postgraduate diplomas.
The polytechnics & Institutes of Technology are state-funded and offer education programs at all levels from introductory studies to full degree programs. Some polytechnics also offer post graduate programs. The programs are offered in diverse fields like Arts and Design, Travel & Tourism, Hospitality & so on.
Private Training Providers (PTE)-
These a range of courses including English language, aviation flight training, air traffic control, business computing, dance, design and arts, religious studies, travel and tourism and training for the hospitality industry. The courses are approved by the New Zealand Qualifications Authority, a government body.
A three year degree program which includes lectures, tutorials, laboratory work and field trips.
A one-years full-time study, designed for graduates, which builds on the subject matter in the academic field of the previous degree.
A one-year, full-time course of study for graduates. It does not always require its students to have prior learning or experience in the subject matter of the diploma.
It a 1-2 year full time program suited for those who have completed their bachelor's. Many master's degrees include a thesis component.
Doctorate programs generally take at least 3 years of full time study to complete. It is a fully research based degree. PHD students pay domestic tuition fee which is a 'benefit' of fee difference from international fees to domestic fees'. Scholarships are also awarded to the students on the basis of academic merit and research ability by the university.
Visa Process
The student visa application can be filed at the New Zealand High Commission, New Delhi or New Zealand Consulate General, Mumbai or Honorary Consul for New Zealand, Chennai.
Processing time for applications:
Applications that fit the "Positive Profile" will be processed within 15 working days. All Positive Profile for assessment go to Bangkok Embassy from New Delhi.
For Need to Review Profiles will take 10 – 12 weeks to process a student visa application.
Chances of Telephonic Interview, Financial documents verification is very high.
Requirements for a 'Positive Profile':
Good academic records.
IELTS score of at least 5.5 or evidence of having met English language entry requirements for the course of study in NZ, whichever is applicable and higher.
Verifiable evidence of funds to meet the educational and living expenses in NZ.
No more than 2-3 family members should sponsor.
Regular source of sufficient income of financial guarantors.
Intended course of study relevant to qualifications/ work experience.
Highly Trusted College/ University/ Polytechnic.
Documents for Student Visa:
Completed Application Form and Supplementary Information Form.
Visa Application Fee
Original Passport.
Offer of place.
Covering Letter / SOP (Hand Written).
Financial Documents.
Academic Documents.
Evidence of English language ability-IELTS Result.
Employment documents, if applicable.
Police Clearance Certificate (for 24 months & above course duration).
Full Medical Certificates and TB Screening Report.
Welcome Letter from ANZ Bank (for application made under FTS).
How much funds does the student need to show for visa?
If the course duration is < = 12 months then provide documentary evidence of liquid funds for tuition fee for the entire course duration + NZ$ 15,000 towards living expenses in New Zealand; [/bullet] [bullet icon="fa-check" color="green"]If the duration of course is > 12 months then provide documentary evidence of liquid funds for tuition fee for 1st 12 months + NZ$ 15,000 towards living expenses in New Zealand + payment plan for the rest of the tuition and living expenses in New Zealand.
Which documents can be shown as proof of funds?
Education Loan Sanction Letter.
Latest Saving Bank account statements for the past 6 months.
Fixed Deposits.
PPF/ PF/ GPF Withdrawable amount.
Post Office Accounts.
National Saving Certificates, KVP, MIS.
To know details, please contact our counselors.
FTS is an option given to the students who are genuine and doesn't have fund from last 6 months.
The students will need to transfer at least 12 months' living expenses to a bank account in NZ, ANZ Bank, in addition to paying the tuition fee for 1year. The amount deposited in the bank is locked for a period of 12 months and then drip fed to the student on a prearranged basis after the AIP (Approval in principal) is received.
FAQs
What is the time frame for the admission & visa process?
Undergraduate applications are generally assessed quickly in 3-5 weeks time wherein PG applications could take 4-8 weeks for processing. Visa procedures for New Zealand are quick, where New Zealand Information Service supports decision of positive profile students in 15-20 working days.
What are the part time work opportunities for students & how much can they earn?
Students are allowed to work part time upto 20 hrs per week. Most students work in Restaurants, Farms, Mall's, Marketing Executive's etc. Wages will range from NZ$ 9-12 approx.
What are the accommodation arrangements?
A written guarantee of accommodation is required before a student visa can be granted. Some institutions may be able to arrange residential accommodation for students who are not staying with relatives or friends. However, you may wish to arrange accommodation for yourself. You should indicate whether or not you want assistance in finding accommodation when you apply to the institution.
Are dependants allowed to come along?
Your dependants, who may include a spouse, de facto spouse, fiance(e), and children, may accompany you to New Zealand or join you later. They must apply for and meet the normal requirements for the type of visa required (visitor, work, or student). School aged dependants will be required to pay full fees for enrolment in primary and secondary courses of study.
I have got a student visa and my spouse wants to accompany me to New Zealand. Can He / She apply for a work visa?
Your spouse can apply for a work visa only if you are doing a post graduate course in NZ or you are studying a course towards qualifications in Long term Skill Shortage List.
When will I get my 12 month job search visa?
You are eligible to apply for 12 month job search Visa within 3 months of the date of completion of your course in NZ.
What would be my next visa status after job search visa?
If you get Job offer in your relevant area of study then your visa status could be converted to Work Permit or Permanent Residency on your Eligibility based on the Skilled Migrant Category at that time.
Expenses
The tuition fee is different for different universities and varies with courses. We have listed a few courses with the approximate range of annual tuition fees. For more specific details, please contact our expert counselors.
Postgraduate Studies

Course

Fees (per annum)

Arts/Humanities/Social Sciences

NZ $14,000 – $16,000

Master of Business Administration (MBA)

NZ $18,000 – $24,000

Engineering

NZ $18,000 – $24,500
Undergraduate Studies

Course

Fees (per annum)

Arts/Humanities/Social Sciences

NZ $10,000 – $12,000

Commerce/Administration/Management

NZ $10,000 – $12,500

Computing & Mathematical Sciences

NZ $13,000 – $15,000

Engineering

NZ $16,000 – $17,500

Science/Science Technology

NZ $14,000 – $16,000

Technology

NZ $14,000 – $18,000
Estimated Living Expenses:
| | |
| --- | --- |
| Rent | NZ$ 105 – 145 per week |
| Groceries | NZ$ 70 per week |
| Electricity/Gas | NZ$ 20 per week |
| Internet | NZ$ 4-5 per week |
| Entertainment | NZ$ 50 per week |
Universities
Some of the major Universities and Institute of Technologies in New Zealand is listed below.

www.aut.ac.nz
Auckland University of Technology

www.lincoln.ac.nz
Lincoln University

www.massey.ac.nz
Massey University

www.auckland.ac.nz
The University of Auckland

www.waikato.ac.nz
The University of Waikato

www.canterbury.ac.nz
University of Canterbury

www.otago.ac.nz
University of Otago

www.vuw.ac.nz
Victoria University of Wellington

http://www.manukau.ac.nz/
Victoria Manukau Institute of Technology

http://www.unitec.ac.nz/
Victoria Unitec

http://www.whitireia.ac.nz/
Whitireia Community Polytechnic
Christchurch

http://www.cpit.ac.nz/
CPIT
Dunedin

http://www.tekotago.ac.nz/
Otago Polytechnic
Hamilton

http://www.wintec.ac.nz/
Waikato Institute of Technology
Napier

http://www.eit.ac.nz/
Eastern Institute of Technology
Nelson

http://www.nmit.ac.nz/
Nelson Marlborough Institute of Technology
New Plymouth

http://www.witt.ac.nz/
Western Institute of Technology
Palmestorn North

http://www.ucol.ac.nz/
Universal College of Learning
Rotorua

http://www.waiariki.ac.nz/
Waiariki Institute of Technology
Tauranga

http://www.boppoly.ac.nz/
Bay of Plenty
Wellington

http://www.whitireia.ac.nz/
Whitireia Community Polytechnic

http://www.weltec.ac.nz/
Wellington Institute of Technology
Whangarei

http://www.northtec.ac.nz/
Northtec Polytechnic